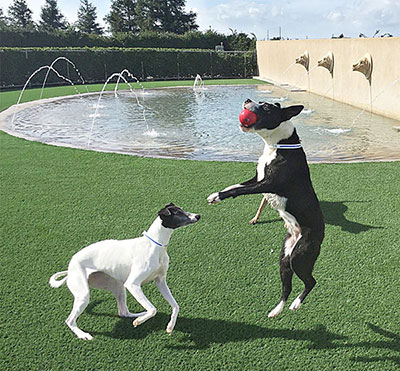 Take Advantage of Our Special Daycare Pricing!
$26.45 per day
$24.45 per day with 24-hour reservation (discount)
10 Day Daycare Package - $214.50 ($21.45 per day)
20 Day Daycare Package - $409.00 ($20.45 per day)
Winner of the People's Choice Award in Pet Care for 14 years
Knowledgeable, well-trained staff
Fresno's only supervised Dog Waterpark
Fun, safe environment for your pet to play
The Benefits of Dog Daycare
Elaine's Pet Resort's Daycare provides exercise, playtime, fresh air, and an opportunity to build socialization skills. And most importantly — play time to burn off pent-up energy! You relax in the evenings with your happy, satisfied furry friend. Give your pet the lifetime gift of socialization, and sign up for your daycare plan with Elaine's Pet Resorts today!
For the health and safety of our guests, we require up-to- date vaccinations for Rabies, Distemper/Parvo, Canine Influenza H3N2 and H3N8 and Bordetella. Proof of vaccinations are required for all visits. Certificates can be faxed or provided at check-in. We will review these when making your reservation.