If you're looking for a fun and safe environment for your best friend while you're at work or away for the day, our doggy daycare activities are just what you and your dog need. At Elaine's Pet Resorts, dogs enjoy an action-packed day filled with play, exercise and rest at both our Fresno and Madera locations. Under the supervision of our trained staff, our doggy daycare guests receive positive social interaction in either a group play or personal play that will leave your dog tuckered out at the end of the day!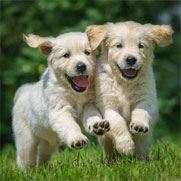 TRUSTWORTHY DOGGY DAYCARE
Winner of the People's Choice Award in Pet Care for 12 years, we are a licensed and approved BBB business committed to maintaining a high level of excellence for our guests. Maintaining close relationships with local vets has made Elaine's Pet Resorts a staple in pet care in the Central Valley.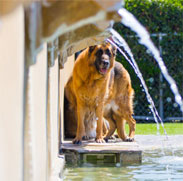 NEW DAYCARE
GUESTS
Our top priority is the safety of your pet. At first check-in, you will need to complete a questionnaire in order that we can better understand how your dog plays and behaves. If your dog has any known sensitivities or allergies, please let our knowledgeable front desk staff know.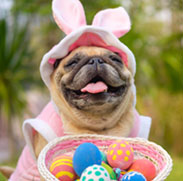 SEASONAL
EVENTS
We love having fun with all of our guests and nothing says fun like festive pictures! For certain holidays throughout the year we offer exciting photoshoots for your best friend! Not only will they be able to come and play, but will enjoy dressing up and posing in the season's cutist costumes.
VACCINATION
REQUIREMENTS
For the health and safety of our guests, we require up-to- date vaccinations for Rabies, Distemper/Parvo, Canine Influenza H3N2 and H3N8 and Bordetella. Proof of vaccinations are required for all visits. Certificates can be faxed or provided at check-in. We will review these when making your reservation.
Fresno and Madera's Only Supervised Dog Waterpark
Two large, beach-front entry pools await your dog at Elaine's Pet Resorts' Doggy Daycare! The warm Central Valley summers and mild winters allow your best friend to romp around the waterpark and splash through the fountains in either group or personal play. For dogs who may be new to the water or are shy, our beach-front entry pools allow for pets to enter at their own comfort level.
Each water park includes a large cabana, so pets can lounge comfortably in the shade and watch all of the action. Our play yards are fitted with canine turf (which means cleaner dogs!) and filled with dog safe toys to make the experience even more enjoyable. All playgroups are broken down by size and play style; small dogs will play with small dogs and big dogs with big dogs. Dogs who play better one-on-one with a human companion can have personal play sessions in the water park as well.
"All of your employees are friendly, helpful and always make me feel like my dog is a rockstar! I am happy about the extended hours on Sunday and your holiday picture packages are a lot of fun too...very creative!"–Karen K.