For over 25 years, Elaine's Pet Resorts has been where best friends stay. We provide high quality dog boarding services that give pets a comfortable and enjoyable environment at our two Central Valley locations in Fresno, CA and Madera, CA. We are not your typical dog kennel or dog boarding facility. We feature accommodations that can be tailored to make each stay a unique experience. Our individual and family-style rooms allow for privacy, relaxation and comfort. Spread across three acres of land, Elaine's Pet Resorts is securely fenced with daily housekeeping that maintains the highest standard of excellence in cleanliness.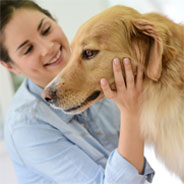 Special Accommodations
To provide the best care for our pet guests, our trained staff are ready and willing to go the extra mile to make your pet's stay comfortable. Special accommodations can be made for:
FEEDING
HANDLING
BEDDING
MEDICATION (no injections)
EXERCISE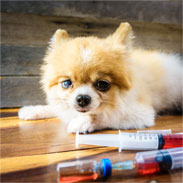 Vaccination Requirements
For the health and safety of our guests, Elaine's Pet Resorts require up-to-date vaccinations for Rabies, Disptemper/Parvo, Bordetella and Canine Influenza H3N2 and H3N8. Proof of vaccinations are required for all visits. Certificates can be emailed to vaccines@elainespetresorts.com. Make sure to check with your veterinarian to ensure that all of your pet's vaccinations are up-to-date.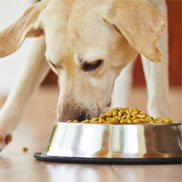 Food and
Nutrition
A well-balanced diet is very important. At Elaine's we feed our canine guests NUTRO Natural dry food and Pedigree wet food. Our kitchen also prepares a special blend of chicken broth and rice that can be added to meals. Parents may bring food prepared at home in individual serving size bags. For dietary restrictions, sensitivities or allergies, notify us when making your reservation.
Personal Belongings
We do our best to make your pet as comfortable as possible. You are welcome to bring non-perishable treats and one or two favorite toys which we will label upon arrival. We ask your cooperation in limiting the amount of personal belongings. Due to water restriction usage, we are no longer able to accept personal bedding or blankets in order to reduce laundry and conserve more water.

"Our pampered dogs absolutely love going to Elaine's Pet Resorts and always come home wonderfully happy!"
—Cindy V.
Boarding Rates as Low as $39.95 per Night
The knowledgeable staff at Elaine's Pet Resorts understands that each pet is a unique. Our experience shows that the more interaction and activity pets receive, the healthier and happier they will be. We offer individual and group play options and pampering for your pets.
Our experience shows that the more interaction and activity pets receive, the heathier and happier they will be. The knowledgeable staff at Elaine's Pet Resorts understands that each pet is unique. We offer one-on-one playtime with pet care staff and group play options where dogs can socialize and play safely.
We realize each pet parent knows their pet best, so you can choose the right amount and type of activity for your furry friend. Customize your pet's activity options and learn about our discounted activity packages that provide exercise, socialization, pampering and relaxation.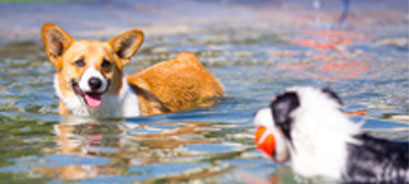 Play Group
Our lush, green play yards and a beach front entry pool set the stage for a one-of-a-kind play group experience. Your dog can splash and have fun with dogs of similar size and temperament. Pets will be sure to make new friends at Elaine's under the supervision of our trained staff.
Personal Play
Special, one-on-one personal play session pairs your pet with one of the members of our staff. They can bond over favorite games like fetch or tug-of-war, and enjoy the water park.
Potty Walks
Just like at home, our potty walks will provide your pet an opportunity to relieve on our grassy courtyard. Potty walks can be scheduled at the discretion of parents to meet their pet's specific needs. It's our goal to always make sure your pet feels comfortable at our resort.
Tuck-In
After a fun-filled day of play, just like at home, your best friend can be tucked in for the evening. Cozy cuddles with plenty of belly rubs will send your pup into a tranquil night's sleep.