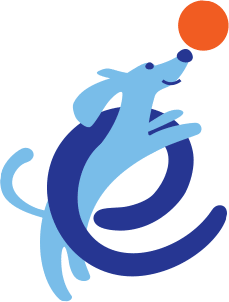 Your dog deserves a vacation as much as you do! At Elaine's Pet Resorts, we treat our guests like family.
Your dog will enjoy their own private suite featuring an elevated resting bed, comfy bedding, and fresh water at all times. Our facilities are temperature controlled and come with the soothing sound of music. We offer the largest indoor suites in the area and we're happy to make accommodations to ensure a happy and comfortable stay for all our guests.
Download our Lodging Checklist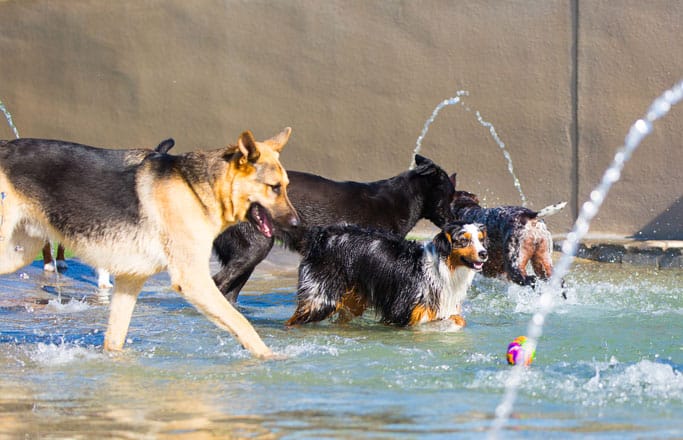 In addition to the activities you chose for your furry friend, your dog will be escorted to an outdoor elimination area a minimum three times per day for potty breaks. During these times, guests' rooms are deep cleaned and sanitized for their safety and comfort. This includes fresh linens and water.
After a full day of exercise and fun, your pup can get cozy in their private suite and rest up for another day of excitement!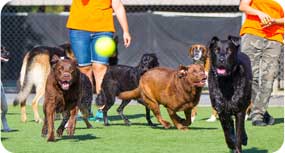 Our lush, green play yards and a beach front entry pool set the stage for a one-of-a-kind play group experience. Your dog can splash and have fun with dogs of similar size and temperament. Pets will be sure to make new friends at Elaine's under the supervision of our trained staff.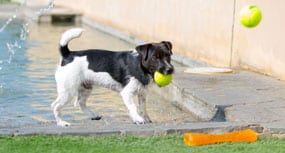 Special, one-on-one personal play session pairs your pet with one of the members of our staff. They can bond over favorite games like fetch or tug-of-war, and enjoy the water park.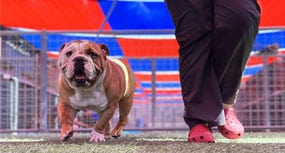 Just like at home, our potty walks will provide your pet an opportunity to relieve on our grassy courtyard. Potty walks can be scheduled at the discretion of parents to meet their pet's specific needs. It's our goal to always make sure your pet feels comfortable at our resort.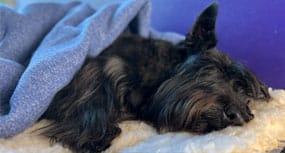 After a fun-filled day of play, just like at home, your best friend can be tucked in for the evening. Cozy cuddles with plenty of belly rubs will send your pup into a tranquil night's sleep.
How to Prepare for Your Dog's Stay
Elaine's Pet Resorts cares about the safety and comfort of all of our furry guests. We include one daily serving of premium Nutro dog food, with additional servings available for a small daily charge. However, we highly recommend bringing food from home to maintain routine and avoid digestion issues. If you do, we ask you please pre-measure it into individual bags per feeding time and label each serving with your dog's name.
Meet & Greets are required for all new pets (expect kittens under 6 months)
Cost is 24.95 for dogs and 14.95 for cats
Meet & Greets are conducted Monday – Thursday
They must be at least 48 hours prior to the pet's check in date
Learn more about Elaine's Meet & Greets here.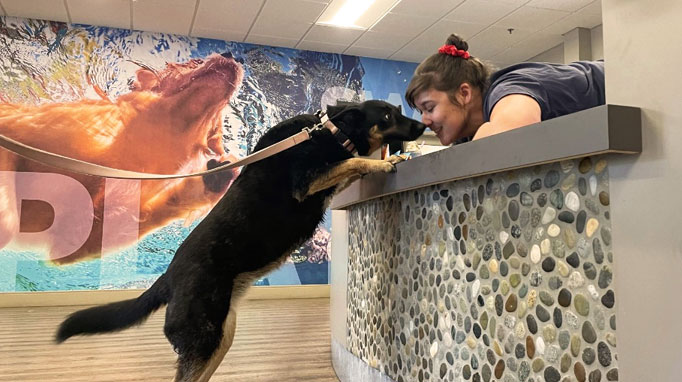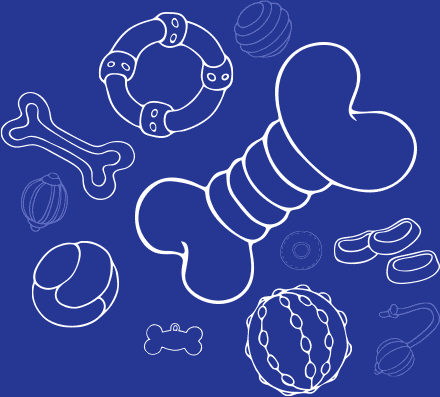 You are welcome to bring your best friend's small toys or nonperishable treats for their stay. We ask for your cooperation in limiting your pet's personal belongings to up to two favorite toys. (Please remember we cannot guarantee toys will be returned in the same condition.)
Elaine's Pet Resorts furnishes all of our guests with their own bedding, and offers premium styles with many of our lodging packages so no need to bring bedding from home.
For more details on how to prepare for your lodging stay, use our Lodging Checklist.
What Can I Expect After My Pet's Stay?
After an exciting boarding stay at Elaine's Pet Resorts, you may notice some changes in your furry friend. These are completely normal! While at Elaine's, your dog received access to unlimited water in their suite. However, it is still likely they will seem very thirsty upon returning home. This is a common reaction to the excitement of being back at home with their family. It may take a few days for them to return to their normal routine.
Elaine's is a very active environment, with the dogs interacting for several hours per day. Even if your dog did not run or swim all day, simply being awake can make them very, very tired. At home, most dogs sleep the day away getting 18 or more hours of sleep. Although they enjoy plenty of down time in their private suite, they will be tired. Please let them rest. We do not recommend that you take them to the dog park or any other social environment for at least a few days.
If you have any questions or concerns following your stay, please do not hesitate to reach out to our Management Team!
Our pampered dogs absolutely love going to Elaine's Pet Resorts and always come home wonderfully happy!
- Cindy V.
Elaine's Pet Resort has become Augie's home away from home. She always looks forward to running around and playing with her friends in the yard. As she pulls us into the lobby with excitement, it gives us a piece of mind knowing she is enjoying her time & being well taken care of. Elaine's has been a blessing for our family!
- Nina H.

Yes, reservations are required. A reservation made in advance will secure your spot in daycare or for boarding, which is important during our busy weekends and holidays. You can call us at (559) 432-5959 or use our online reservation form to request a reservation.